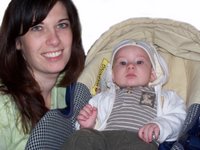 The Gustina Family Christmas Letter
(as told by Silandara)
Something momentous happened in 2005�I changed my name. No, not to Gustina (although I did finally change it to Bartlett-Gustina on my driver�s license after 2 years of marriage). It was a bigger change than that.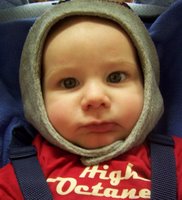 I became Duncan�s Mummy.
Beyond that defining moment in July, much of the year seems a blur�either an anticipatory haze of staring into the toilet bowl or down at my swelling belly, or a fog of getting used to being a diaper-changing feeding-machine pacifier-putter-inner. Human reproduction truly is a miracle. It�s a miracle we keep doing it over and over through the millennia. That said, I love being a mum. I have never been so in love as I am with my son, and with Kevin too as together we brought this blessing into being.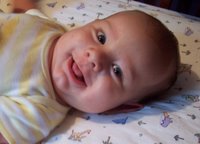 Lest you think that all I can do these days is babble on endlessly about Duncan, here�s the update on the other stuff in my life. (For more on Duncan and his ever-growing cuteness, read my blog at www.silandara.com/blogger.html)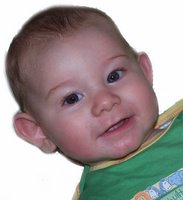 The music biz pretty much ground to a halt at the end of last year. Hauling a 53-lb PA system and being pregnant didn�t mix. And right now, getting a baby to sleep at night and getting up for work in the morning also doesn�t blend well with the gigging lifestyle. I had a good run. I learned a lot. It�s not over, just on the back burner for now.
My quest to become an ordained minister in the Spiritualist church sometimes seems like a never-ending one. I think this is the third year I�m writing about it. I�m almost done with the coursework and, since I did my pastoral skills training last year, all that remains is a few more lessons and lots of tests to take. Hopefully this time next year, I�ll have a new story to tell.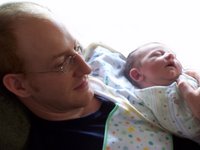 One thing having a child is teaching me (here we go about the baby again), is that I�m willing to go out on a limb if it�s in the best interest of my family. In this case, it means believing in myself enough to start freelancing fulltime (doing writing and Web) so I can stay home with Duncan. It seems like a huge leap to take, requiring a whole lot of faith and more than a small dab of courage, but one that�s definitely worth it. If you know of any good opportunities for me, please let me know.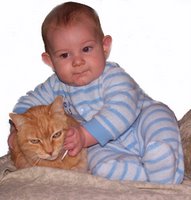 Since this has become the �Gustina Family� letter, it�s only fair to include Kevin�s news. He�s working nights at RIT in facilities management and has gone back to school. His grades are great and he�s even managed to combine his love of brewing beer with classwork, creating a manual on how to brew beer at home. It�s a busy life, but he�ll soon graduate with an associate of applied arts and sciences degree and then continue on to finish his bachelor�s. And he makes a great Daddy. (
I hope this finds you well and happy. Go in peace this season.