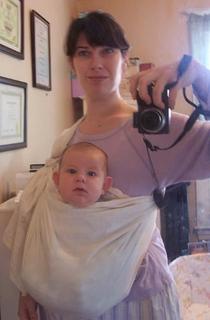 The sling is our saviour. Without it, I would get nothing done.
The sling, for instance, allows me to write this blog entry while getting Duncan to nap. It affords me 2 hands, instead of one if I'm lucky — usually my left, at that. It also spares my back the effort of carrying at 16-lb baby.
Yep, a 2-month-old 16-lb baby. Is he even on the growth charts? I don't know. At least we know he's eating well.
Speaking of eating, yesterday I bought my electric, super whammy double sided breast pump. The Medela Pump-in-Style of course. (Because style is of my utmost concern while I'm turning myself into a human cow and pumping holed up in my office at work with the door locked and a curtain over the window.)
There was something else that happened yesterday that, at the time, I thought would make an excellent subject for a blog post. Don't know what it is now, though.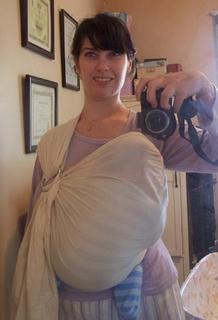 So, instead of interesting reading, here are today's photos (yes, still in my jammies at noon — and I got up at 7:30 a.m. today).
While Duncan enjoyed the kangaroo hold (pictured in top photo), it wasn't one he could fall asleep in with his bobble head. So he's currently snoozing on my chest in modified snuggle hold (bottom photo). His legs are now too long to comfortably fit inside the sling. For some reason he protests when I double him up in half…
OK, on with that thing called freelance work.
Oh…I remember now. I watched part of the movie White Noise last night. (See how the thought of work magically jogs my memory?)
I stopped watching when it got scary. I admit it. I was home, alone with Duncan, it was night. And I've got no tolerance for creepy movies, especially ones that make out people in spirit to be evil, out to get you, and capable of killing someone in the physical. I don't need that kind of thing in my consciousness — especially when I'm going to be doing readings at church tonight.
What was interesting was the special features segments with Tom and Lisa Butler of the American Association of Electronic Voice Phenomena. Tom and Lisa are also Spiritualists. 🙂 So I watched that part instead of the rest of the movie. Good choice, I think. Shame Hollywood has to creepy-ize paranormal phenomena.