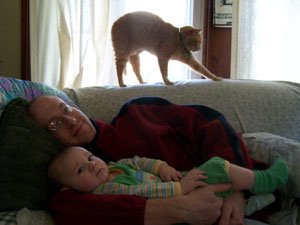 It's been a weird few days in many ways. Change is in the air — which is a good thing as the only constant is change. But sometimes it feels rather unsettling.
I chickened out on taking Duncan to the rest of the conference with me and talked Kevin into looking after him. It just seemed easier that way.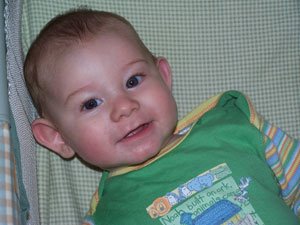 Mum came to visit this weekend, arriving on Thursday. I just took her back to the airport a couple of hours ago.
Here are some photos from the weekend, starting with a cuddle on the couch with Daddy. Hobbes, apparently, had just finished her nap.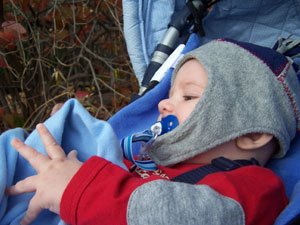 Then we have the big boy in his travel crib. He almost fills the whole thing up. We'll have to lay him in it diagonally soon.
He's still just a baby, I know. A week shy of 4 months. But he looks like such a little boy sometimes. You know, a boy, rather than a baby. It makes sense to me.
We went on a long walk through a nearby park today and paused to take a few pictures. Duncan, however, was more intent on studying his hands. They're his latest, greatest toy, those hands. They do amazing things. Like move. 🙂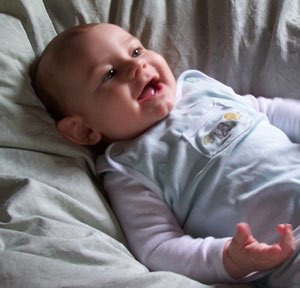 Finally, we had a little photo session on the bed after changing him out of his morning outfit after a massive poop. I think it had been a week since the last one, so he made a really good go of it.
I'm back at work tomorrow, Duncan needs to wake up from his nap and have some dinner (as do I), and there's always more laundry to do, so no time to write more.