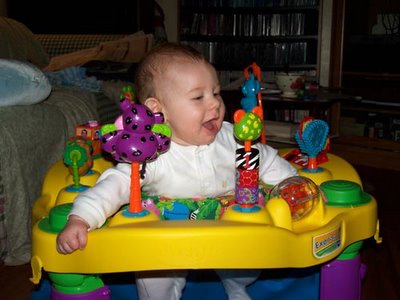 I haven't posted enough pictures lately.
I find it's hard to take them these days. Harder than it was, anyway.
There's not a whole lot of time after work and before bed (Duncan's bed time comes much earlier than mine, though less so lately as I go to bed really early now, not knowing what the night holds).
But tonight I was inspired to snap a few of the cutie enjoying some tummy time on the bed after his bath. And the others we took over the weekend.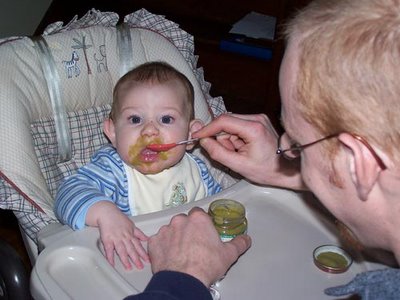 First we have Duncan playing in his early Christmas present from Nanny. It arrived in the mail in its original box, so we knew what it was. Nanny, in her wisdom, told us to put it together and start using it now. It's not like the little guy knows what Christmas is, anyway. And at the rate he's growing, he might as well enjoy it every day that he can.
Next we have a meal time shot. Daddy hasn't quite learned the fine art of baby face scraping. No need to waste any of those yummy green beans when they can be scooped off the face and back into the little mouth.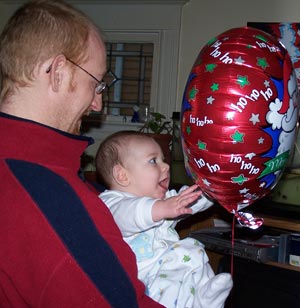 Usually, Duncan grabs his bib and shoves it in his mouth, wiping off his own face. He's got some English manners inherent in him, it seems.
I got the balloon as part of a Secret Santa Christmas present (thanks, Mark!). It was a hit with the little guy, who was clearly fascinated with its helium-filled goodness.
Finally, we have post-bathtime, pre-bedtime playtime on the bed. He was having such a good time just hanging out and doing baby pushups that I ran to get the camera.
I got some video too (which is probably too large to post on the blog). You can't see the massive puddle of drool that is soaking my sheets in this shot, but it's there.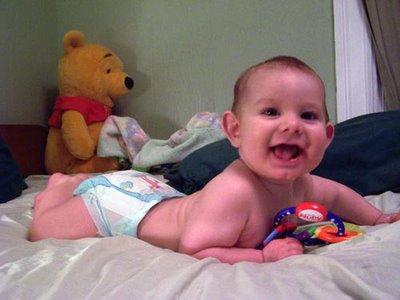 Duncan is modelling a Pampers Baby Dry diaper. I've been promised by a bunch of mums that they truly work overnight. Let's hope it keeps this baby dry, as I'm tired of cleaning up a sopping wet mess at 2 a.m. We've tried just about every other diaper in existence – Huggies, Huggies Overnights, 7th Generation, Pampers Cruisers, Luvs, Little Tikes… you name it.
My next move is into cloth pocket diapers (a la Fuzzi Bunz, Happy Heinys, Dry Bees). I got some from ebay, but I need to wash the inserts first. And I should probably fold the clean stuff in our overflowing laundry baskets before I tackle any more.
Like I need more laundry. But washing his PJs, sleep sack, sheet and sometimes my PJs every night isn't working out either. Wish us luck – you never know what the night holds.