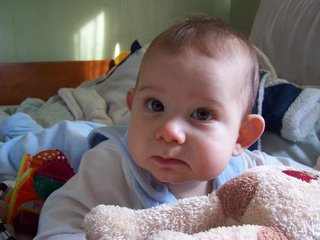 It's 9 p.m. on a Saturday and I'm so ready to go to bed. I've been trying to get off the phone with my mum for a good half hour so I can get ready for bed…
Where did my life go? I'm not even 30 yet.
One possible source of my drained energy might be found in these photos. I think another tooth is coming through. That's my inexpert opinion on the recent spate of fussiness. It's a lot like the other pre-tooth fussiness.
We can only hope. (That it goes away for a few weeks after the second bottom tooth emerges.)
Duncan now sits. Sometimes for a couple of minutes unsupported. He maintained this position for several minutes this morning before collapsing on the bed (as shown above) on his tummy.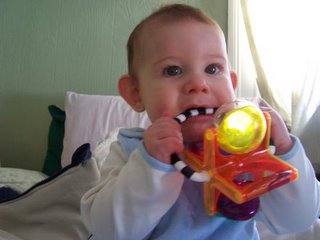 Tummy time is also no longer a reason to whine, for at least a good 5 minutes at any rate. And hand dexterity and hand-mouth coordination is improving drastically.
We're approaching the 6-month milestone. (On Jan. 20.) This means I can break out all those 6 month + toys stashed in the pantry cupboard. (We no longer keep food in our pantry cupboard since we installed the new kitchen last fall that now actually has room for our food AND dishes.)
I understand why they're "rated" 6 months + now. It has to do with that whole sitting thing. It's hard to play with blocks and stacking rings and things when you're either stuck on your back or your belly. But once you're sitting… then the fun begins.
OK. Now I'm really going to bed. That's my fun. Uninterrupted sleep.